CARIBELINQ EVENTS:
World Carnaval Tour Saturday March 17, 2012 @ Oasis, Oakland, CA
SambaFunk returns to SF- Wed night dance classes
SambaFunk Carnaval classes w/ King Theo I
ARTISTIC AND CULTURAL OFFERINGS:
Early Bird Tickets for the 2012 San Francisco International Arts Festival
EVENTS AROUND THE BAY AREA:
International Women's Day 2012 Concert feat Mar 8, 2012 @ Yoshi's SF, CA
Constantina & Antióquia Fri Mar 9, 2012 @ Ashkenaz, Berkeley, CA
Rumbaché Fri Mar 9, 2012 @ Cigar Bar, SF, CA
San Jose Winter Fest Mar 9-11, 2012 @ San Jose, CA
Meshell Ndegeocello and Chris Bruce Mar 12-13, 2012 @ The New Parish, Oakland, CA
COMMUNITY HAPPENINGS:
ACTA Skill Building Workshops Mar 31, 2012
CaribelinQ Events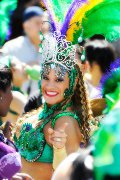 World Carnaval Party with SambaFunk! & La Mixta Criolla
Saturday, March 17, 2011
Oasis Restaurant and Bar
135 12th St
Oakland, CA 94607
Advanced Purchase Price: $7
Door Purchase Price: $ 10
The SambaFunk! World Carnaval™ Tour continues its journey towards the San Francisco Carnaval explosion in May! Join our 4th tour stop as we explore the Caribbean Islands for a celebration of World Carnaval-inspired funk, soul, samba, bomba, plena, and Afro-Puerto Rican music. Dance the night away with live music and live Brazilian samba performances by the FunkTyme Playahs, King Theo,and the Queens and Lords of SambaFunk!, our 4th World Carnaval™ stop will be full of Caribbean flavors with traditional Afro-Puerto Rican party music by special guests La Mixta Criolla led by Hector Lugo and a Trinidadian Carnaval floor show by Caribbean Vibrationz. Caribbean food vendors will be on hand to provide the flavors to savor. Come see the performances and be prepared to embark on a rhythmic adventure…a world-wide tour of Mardi Gras-Carnaval culture, a journey of JOY…let your SOUL lead the way. A funky, fun-filled night of music and dance is guaranteed.
For more info:
www.sambafunk.com
510-451-6100 or sambafunky@gmail.com
SambaFunk! Returns to San Francisco
Wednesdays
@ Twin Space Continum ( 1 Block from 16th Street BART)
2111 Mission Street @ 17th
Mission District, SF
3rd Floor, Suite 300 ( Buzz from street to Open Door)
SambaFunk! in the City w/ King Theo
Join King Theo as he teaches a variety of Brasilian, Carnaval & Funk dances including Samba, Samba Reggae, Carnaval Bloco, Frevo and African American Funk. Learn Carnaval dances from Latin America & the Caribbean.
Comfortable setting for men to learn Samba. Men's Samba techniques explored. Dance in San Francisco Carnaval….
Weekly Wednesday Classes
8:07pm – 9:37pm
$12 / $10 with Class Cards / All Levels / Not Dance or Parade Experience Necessary
SambaFunk! "Carnaval Explosion" w/ King Theo
Experience Carnaval Bloco Movements, Samba, Samba Reggae, Funk Step'n
All Levels – All Ages – Men's Samba Technique
Dance * Fitness * Culture * Community
Check out new photos on Facebook!
World Carnaval …. SambaFunk! & Proyecto Lando 2.26.12
SambaFunk! Sunday…. Our Funky Visitor 1.29.12
Click here to see our latest video of SambaFunk! Sundays dance class
Weekly Dance Classes:
Sunday Afternoons 4pm – 6pm
Malonga Center for the Arts
1428 Alice Street @ 14th Street
Downtown Oakland, California, USA
Studio A / 2nd Floor
$10 / LIVE Drums
bring a few extra $$$ to tip the drummers……
center: 510.238.7224
Weekly Drum Classes
Sunday Afternoons 4pm – 5pm
Malonga Center for the Arts
1428 Alice Street @ 14th Street
Downtown Oakland, California, USA
Studio b / 2nd Floor
4-5pm, Drummers rehearse for an hour then play for dance class from 5-6pm
Calling ALL Drummers-come and drum with the funkiest group around
For more info:
http://sambafunk.com/
http://caribelinq.com/
Artistic/Cultural Offerings
2012 San Francisco International Arts Festival
Early Bird Tickets $12
Early Bird Tickets for the 2012 San Francisco International Arts Festival are now on sale. Every year the Festival puts 5% of its tickets on sale for the month of March for this incredible reduced price.
West Coast debut of Liquid Theatre (Russia)
US Debut ofSusanna Leinonen Company (Finland)
International Collaborations
AXIS Dance Company with Marc Brew Company (USA & UK)
Cid Pearlman Performance Project (USA & Estonia)
Dance Elixir (USA & The Netherlands)
inkBoat with Ko Murobushi (USA & Japan)
Sir Richard Bishop with Compagnie 7273 (USA & Switzerland)
World Premieres
Post:Ballet (USA)
Yaelisa & Caminos Flamencos (USA)
Earplay Ensemble (USA, China & Germany)
Regular and premium price tickets are from between $20 – $55 when bought in advance. Ticket prices for Seniors and Full-Time Students begin at $16
For info and tickets:
www.sfiaf.org
415-771-6900
Events From Around the Bay
International Women's Day 2012 Concert
Thur Mar 8, 2012
Yoshi's SF
SF, CA
A Benefit for Earth Day SF and Peace Day SF sponsored by NOW (National Organization for Women)
Join a broad coalition of Bay Area women's organiziations celebrating International Women's Day 2012!
Sponsors include: The National Organization for Women, Planned Parenthood, CodePink, World Can't Wait, Trust Women and the Bay Area Coalition for Reproductive Rights.
Featuring Big Brother & the Holding Company, Pamela Parker, Nonstop Bhangra, Mondo Loko, plus more bands in the Lounge
For more info: http://www.yoshis.com/sanfrancisco/jazzclub/artist/show/2547
Constantina & Antióquia
Fri Mar 9, 2012
Ashkenaz
1317 San Pablo Ave.
Berkeley, CA
Direct from Brazil, Constantina makes its Bay Area debut this week thanks to being invited for a second time to the prestigious South by Southwest conference in Austin, Texas. Constantina plays instrumental post-rock music with minimalist and delicate aesthetics, featuring clever use of guitars with subtle electronic interference and always open to improvisation. Since its birth in 2003 in Belo Horizonte, Brazil, the septet has issued four CDs of original music, and on this tour features music from the latest, "Haveno."
Antióquia is known for its driving fusion of psychedelic rock and rhythms from the African Diaspora. Peppered with fits of improvisation, bouts of silliness, and fiery percussion pieces performed amidst the crowd, an Antióquia show is high-energy, captivating, and anything but predictable. Birthed in Colombia, bred in the Bay Area, and based in Oakland, Antióquia makes music that inspires raucous dancing and deep listening.
For more info: http://www.ashkenaz.com/
Rumbaché

Fri Mar 9, 2012
Cigar Bar
850 Montgomery St., SF, CA
Rumbaché (formerly Quimbombó) has established themselves as one of the hottest Bay Area salsa bands. Fusing salsa, timba, bomba and whatever else they could find to spicen up the mood, they provide a hard hitting style of playing. And while you can hear them interpreting the classic and contemporary Cuban and Salsa repertoire, they are not shy with their own expression. Their fresh originals make them stand-out in an otherwise cover heavy salsa scene. Under the leadership of percussionist Patricio Angulo, Rumbaché is the voice of youth for San Francisco's salsa scene, and ignites enthusiasm in dancers and musical connoisseurs alike.
For more info: http://www.cigarbarandgrill.com/music.php
San Jose Winter Fest
Mar 9-11, 2012
San Jose, CA
Get ready for Winter Fest! A counterpart to our wildly popular Summer Fest, our winter Jazz festival includes a variety of established players and exciting Jazz upstarts—from straight-ahead Jazz to innovative young artists that are moving the art form forward, there's something for everyone to discover.
Highlights include an artist-driven collaboration by Ambrose Akinmusire and Gerald Clayton, Vocalist Jamie Davis, New York-based saxophone prodigy Grace Kelly, The Blues All Stars with J.C. Smith, Chris Cain & Maxx Cabello Jr., and Rupa and the April Fishes, a global group that mixes elements of Gypsy Swing, Colombian Cumbia, French Chanson and Indian ragas. These concerts will be held at the intimate Theater on San Pedro Square, offering you an unique opportunity to experience these artists in a personal way.
Other ticketed events will include a Blues Dance Party featuring Summer Fest favorite Legally Blue and a Salsa Dance Party with the Pacific Mambo Orchestra, both held at the San Pedro Square Market. There's also a free "Club Crawl" featuring performances by great local Jazz groups at various bars and restaurants along San Pedro Street, which will offer food and drink specials during the festival.
For more info: http://www.sanjosejazz.org/en/winter-fest/year.listevents/2012/01/09/-.html
Meshell Ndegeocello and Chris Bruce
Candle Light / Seated Show
Mar 12-13, 2012
The New Parish
579 18th St
Oakland, CA
Canonized, marginalized or just scrutinized, Meshell Ndegeocello has given up with the politics of explaining herself. After 20 years in an industry that has called her everything from avant garde to a dying breed, what unquestionably remains is the fearsome bassist, prolific songwriter and the creativity and curiosity of an authentic musical force. With that, she has earned critical acclaim, the unfailing respect of fellow players, songwriters and composers, and the dedication of her diverse, unclassifiable fans. For the sake of setting the record straight, a few brass tacks remain: Meshell was born in Germany, raised in DC, signed at 23, and has been nominated for 10 Grammy awards.
For more info: http://www.thenewparish.com/event/99303/
Community Happenings
Skill Building Workshop on March 31, 2012
Work Sample Laboratory
Saturday, March 31, 2012,1-4 pm
BAVC (Bay Area Video Coalition)
2727 Mariposa Street
SF, CA
Back by popular demand! One of the most important components of any grant proposal is the work sample. What do you need to consider when portraying your artistic expression for a grant submission? Is an audio sample the best choice for a musician or should you be seen as well as heard on a DVD? How do you best portray material arts? What if your art form is participatory? Bring in your own work samples for gentle critique and viewing; and view and experience examples of successful and not so successful work samples. A panel of experienced arts and cultural grants reviewers will share their good practices and tips with you.
$20 suggested donation but no one will be turned away for lack of funds.
For questions or to RSVP to either session,
Lily Kharrazi lilyk@actaonline.org
(415) 346-5200